Shopping online is convenient, but it can be harder to sort out problems, especially if you buy from overseas websites.
How it works
Online shopping includes buying things through:
websites or smartphone apps
emails
text messaging
social media and online marketplaces
online auctions like Trade Me and eBay
daily deal and group buying websites.
The Fair Trading Act and the Consumer Guarantees Act apply to offers and sales made through all of these channels, except when you buy from a private seller.
When you buy something online, you and the seller have entered a contract electronically. You're bound by the same rules and laws as if you received a paper contract.
Contracts and sales agreements
---
Top tips to shop safely online
Online shopping means you're only a few clicks away from making a purchase. It can also mean you're just a few clicks away from being targeted by a scam.
Set yourself up for safer shopping
Keep software and anti-virus protection up to date
Up-to-date systems are less likely to be taken advantage of by scammers.
Keep up to date with your updates(external link) — CERT NZ
Use strong, unique passwords
A combination of upper case, lower case, numbers, and special characters is best. Don't use personal information in passwords. Many people use the same password for all accounts, or a few different ones over and over. If an attacker gets one of your passwords, it's likely they may have access to any other accounts that share it.
Check your bank statements or account activity
It's good to keep an eye on your bank or credit card statements for unusual activity. If you think you've been scammed by a fake website and can't contact the business, report it to CERT NZ.
Report an issue(external link) — CERT NZ
It's important to be suspicious because scammers have ways of making their offers seem real. If a deal looks too good to be true, it probably is. Learn to see the tell-tale signs of scams.
Privacy issues
When you browse online, retailers can collect personal information without you knowing by using cookies. This can happen even if you don't buy anything. The website's privacy policy should tell you what information might be stored and why.
Protecting your privacy online(external link) — CERT NZ
Pause before you pay
To shop safely online you need to know the seller is who they say they are and can keep your personal and credit card details secure.
Take a moment. Ask yourself:
Does the website look genuine?
Bad spelling and grammar, or a URL that doesn't seem to match what's being sold, can indicate a website is not genuine, e.g., if bobandjanesportinggoodsshop.co.nz was selling high heeled shoes. Stop and do some research if a website you want to shop through seems suspicious.
Is the site secure?
Make sure any website asking for your information has a padlock symbol next to the URL in your browser. You can find more information on the site's certificate by either clicking on the padlock or just to the left of the browser's address bar. This means the connection is encrypted and no one else can copy the information you provide.
The website address should start with 'https', not 'http'. Https means the site has an SSL certificate, a protocol to keep data secure as it is passed from your browser to the website's server. Don't share information through sites with an address beginning 'http'.
It is a trusted payment system?
Use trusted payment systems, like PayPal. Avoid supplying payment details in an email.
What do customer reviews say?
If you're using a website you haven't used before, look for reviews to see if they have any negative feedback. Feedback might not always be genuine, but looking through customer reviews can give you a sense of whether an online store is the real thing and will deliver what you pay for.
See CERT NZ for more tips to help keep your personal information safe and secure online.
Shopping online safely(external link) — CERT NZ
Getting started with cyber security(external link) — CERT NZ
Check currency
The web address "co.nz" does NOT guarantee it's a New Zealand business. If you're buying from overseas sites, be sure the price is in New Zealand dollars.
Check the details
Carefully read the full description of products sold online. Check that the size, materials, and user guide is right for the purpose you are buying it for.
Use credit cards online
Consider paying by credit card. If the product doesn't arrive, ask your bank for a chargeback. You may be able to get your money back.
Your rights when buying online
Your rights — or your ability to claim those rights — depend on whether you are buying from:
a trader in New Zealand
an overseas trader
a private seller on an online auction site, e.g., Trade Me or eBay.
Check the terms and conditions before you buy online, including returns, delivery, and warranties.
Beware of knockoffs and rip-offs
There are things you can do to make sure you're getting a good deal even if you can't see and touch the item in person first.
Check the product description. You should be sure that the size, materials, and user guide is right for the purpose you are buying it for.
Look for price changes when you select a product variation. The price displayed in search results for a product may not be the actual price for the variation of the product you want. Be sceptical about low-priced items.
Read one-star reviews. One-star reviews may warn you of a product's actual size or nature. Filter reviews by low rating – sometimes the high ratings that appear under the goods are for the retailer rather than the product itself.
Be sceptical of pressure tactics. If you see messages like 'running out', 'just bought', 'just added to cart', or other deals that have a time limit, don't feel pressured to spend. It may be a tactic to convince you to buy something before you do your research.
Think twice before buying into an unbelievable deal. If a site suggests that an item is being sold at a discount from a considerably higher original price, it may be untrue. Although it's common for items to be on sale, if the original price is much higher, the seller may be making a false claim to make the sale price seem like a better deal than it really is.
Buying online from a New Zealand business
When you buy online from a business based in New Zealand and there's a problem with a product or service, you can ask for it to be repaired, replaced or for a refund under the Consumer Guarantees Act (CGA).
If you buy from a private seller, e.g., an individual on Trade Me, the Consumer Guarantees Act and Fair Trading Act don't apply. You have the same rights as if it was an in-person private sale.
Check it's a New Zealand business
A website with '.nz' at the end isn't always a New Zealand business. So, if it looks local but feels funny, check first if a company is registered to sell products in New Zealand.
Registered companies(external link) — New Zealand Companies Register
To find a business's trading name, physical address and email you can also search for their New Zealand Business Number (NZBN).
Search for a business(external link) — New Zealand Business Number
Completing your order
Some online traders don't hold stock. Instead, they source it once you place an order. They need to make this clear before you buy the product. They also need to reasonably believe they can fulfil the order. If not, they may be in breach of the Fair Trading Act.
Buying and selling online(external link) — Commerce Commission
If the online trader arranges delivery, they are responsible for making sure the products arrive on time and undamaged.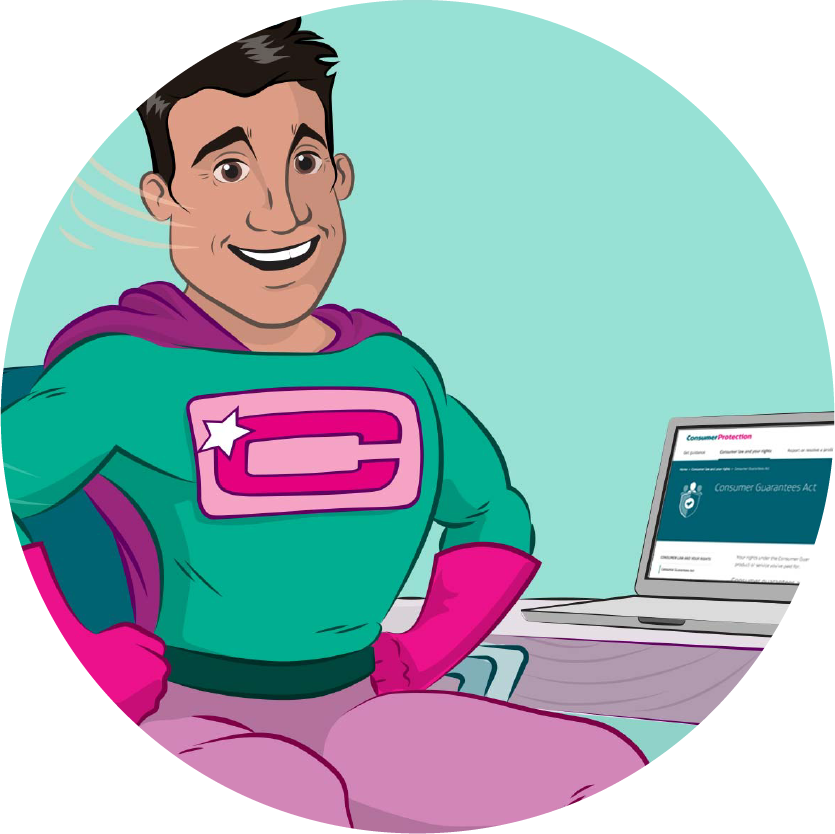 Test your know-how
When buying online from a New Zealand business, what can you do if your purchase doesn't arrive on time, or at all?
Buying online from an overseas business
It's harder to resolve problems and claim your consumer rights when you buy online from an overseas trader. Check the trader's website for terms and conditions including return, exchange, or refund policies; their complaints process; and any consumer laws that apply.
If you pay by credit card but did not receive the goods or services you paid for, you can ask your bank for a chargeback. For example, if you purchased a gift card from a store that then closed, before you were able to redeem it. A chargeback can reverse a transaction which means you get your money back. Chargeback attempts may fail if there isn't a valid reason for it.
Chargebacks(external link) — Banking Ombudsman Scheme
Other things to be aware of when buying online from an overseas business:
Calculate the final cost carefully, including delivery fees and currency exchange.
15% GST may be collected at the point of purchase with the online retailer or when you purchase the services of a redeliverer who deliver goods to areas overseas sellers don't normally ship to.
Exchanges, repairs, and refunds take longer and may be more difficult to negotiate.
Import duties and restrictions may apply - see the NZ Customs website for details.
Shopping online(external link) — NZ Customs Service
If you buy an item valued at or under NZ$1,000 online from overseas, you won't incur duty or customs charges but you can expect to pay 15% GST on the value of that item.
When will I pay Customs charges?(external link) — New Zealand Customs
New GST collection rules explained
Overseas businesses that meet New Zealand's GST registration criteria collect GST on all products valued at or under $1,000, that are sold to New Zealand consumers. This change came into effect on 1 December 2019. This doesn't mean all goods purchased online by consumers have become more expensive. In some cases, purchases have become cheaper because consumers no longer have to pay tariff duty and cost recovery charges, on items valued under $1,000.
Example
Purchase

Total cost before 1 December 2019

Total cost after change on 1 December 2019

$50 shirt

Total cost of consignment: $50

No current charges at the border.

Total cost of consignment: $57.50

$50 shirt + $7.50 GST collected by the offshore supplier.

$300 jacket

Total cost of consignment: $432.17

$300 jacket + $30 tariff (10% × $300) + $49.50 GST (15% × $330) + $52.67 border processing fee.

Total cost of consignment: $345

$300 jacket + $45 GST collected by the offshore supplier.

$600 phone

Total cost of consignment: $742.67

$600 phone + $90 GST (15% x $600) + $52.67 border processing fee.

Total cost of consignment: $690

$600 phone + $90 GST collected by the offshore supplier.
For more information on the changes to GST, see Inland Revenue's information for consumers.
GST on low value imported goods(external link) — Inland Revenue
---
If things go wrong
Sometimes things don't go to plan when buying goods or services online. This could be because you think:
you have been misled
the products were not as described
the products did not arrive
the products are faulty, unsafe, or poor quality
the seller did not have the right to sell those products.
If things go wrong, try to sort it out directly with the seller
If you can't contact them some businesses - like Trade Me and AliExpress - have a disputes resolution process. Normally you can find information about this on their website.
Problems completing a trade(external link) — Trade Me
Disputes(external link) — AliExpress
Apply for a chargeback
If you can't sort out the problem with the seller, your bank or credit card company may be able to reverse the charge on your credit or debit card. This is called a chargeback. You can't get a chargeback if you simply changed your mind about a purchase.
There is a time limit on getting a chargeback. Ask your bank or credit card company what it is.
If you bought a voucher from a daily-deal site
Ask the site or the business providing the product or service to sort it out. Both are equally responsible for providing a remedy.
Prepare to complain
You are more likely to get a good result if you know your rights, gather evidence and are prepared.
Take your complaint further
If you can't resolve your issue directly with the business, the Disputes Tribunal or District Court may be your next step. Remember if the seller is overseas, it may be harder to enforce any formal decision.
About the tribunal(external link) — Disputes Tribunal
You can report the business to the Commerce Commission if:
you think you have been misled
the business has said something that is not true.
The Commerce Commission can't solve your individual problem or investigate every complaint, but they can warn or prosecute the business. Your information also helps them assess which consumer issues are causing the greatest harm.
Make a complaint(external link) — Commerce Commission
---
Examples
Example — Daily deals
A travel agent offers a cheap holiday package to Hawaii on a daily-deal site. He knows the offer is only available to the first 10 customers but doesn't make this clear in the terms and conditions. When the daily deal ends, more than 100 customers have bought it. The travel agent must honour those deals, or he will be in breach of the Fair Trading Act for misleading the public.
Example — Not delivered, ask for chargeback
Jill is delighted to find a website that sells cheap trumpets from China, with delivery within two weeks. She places an order and pays with her credit card. After four weeks, there is no delivery. She tries to contact the seller but gets no reply. So she asks her bank for a chargeback as the trumpet never arrived and the seller has not contacted her.
Example — Fake tickets
Chen gets a text message about tickets to a rock concert available from a private seller via a Facebook page. He messages the seller and buys two tickets. When he tries to go to the concert, he finds out the tickets are fake. The Facebook page is no longer up when he tries to get in touch, and the text number doesn't work. Chen realises he has been scammed so he gets in touch with Scamwatch to warn others.
---
More help
Get support at any point from:
Citizens Advice Bureau (CAB) — a free, independent service run by volunteers. CAB can advise you on your consumer rights and obligations in person, by phone, or online.
Community Law Centre — free one-on-one legal advice to people with limited finances. The organisation has 24 community law centres throughout the country. You can find legal information and other resources on its website.
Find a CAB(external link) — Citizens Advice Bureau
Our law centres(external link) — Community Law Centres