Buying products and COVID-19
All businesses can open at this alert level if they can do so safely. Businesses should help people keep track of their movements by using the Ministry of Health QR code for contact tracing, or keeping a diary to keep track of where they've been.
Shopping online is convenient, but it can be harder to sort out problems, especially if you buy from overseas websites.
How it works
Online shopping includes buying things through:
websites or smartphone apps
emails
text messaging
social media
online auctions like Trade Me and eBay
daily deal and group buying websites.
The Fair Trading Act and the Consumer Guarantees Act apply to offers and sales made through all of these channels, except when you buy from a private seller.
When you buy something online, you and the seller have entered into a contract electronically. You're bound by the same rules and laws as if you received a paper contract.
Contracts and sales agreements
---
Before you buy online
It's good to know how to shop safely online.
Scammers are using COVID-19 as a front for scams
This page provides more on how to stay safe from scams generally so you know what to look out for.
The COVID-19.govt.nz website has some helpful links to other government resources to help you recognise and stay safe from scams.
Misinformation and scams(external link) — Unite against COVID-19
It pays to check out who you're buying from(external link) — YouTube
You can take some simple steps to protect yourself online: research websites before you buy, make sure the payment method is secure, and watch out for scams.
Some other things you can do:
Avoid impulse shopping, especially with daily-deal sites.
Read online feedback — but remember this feedback may not be genuine.
Shop around — compare prices and conditions.
Work out the total cost including any delivery charge, administrative fee, tax, duty or foreign exchange rate.
Use a credit card if possible — it's more secure and if there's problem, you might be able to ask for a chargeback to reverse the payment.
Be wary of offers that appear too good to be true.
Keep your personal data secure — check the website's privacy policy.
Check the Customs website for prohibited imports — there are some things you can't import from overseas.
Monitor children's access — some businesses market directly to children.
Avoid pyramid schemes, which are illegal — watch out for things like chain letters, 'get-rich-quick' schemes and home-based employment opportunities.
Keep a record of all your purchases and keep all your receipts.
Read the privacy terms and conditions before you buy online. These tell you how the retailer will use your personal information.
---
Common issues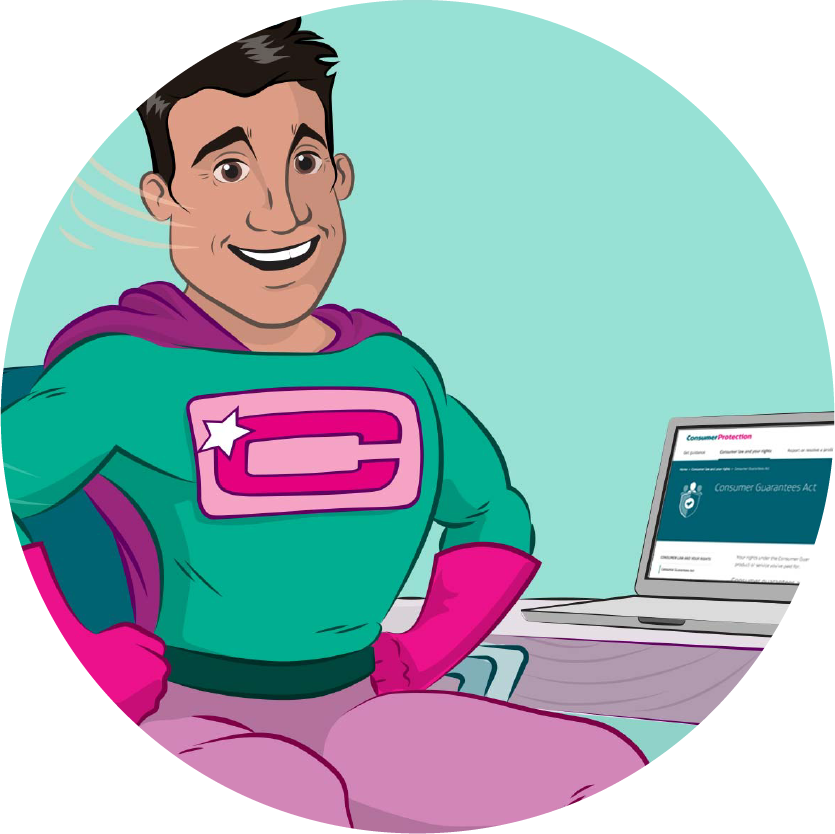 Test your know-how
When buying online from a New Zealand business, what can you do if your purchase doesn't arrive on time, or at all?
Answer
If the online trader arranges delivery, they're responsible for making sure the products arrive on time and undamaged.
Find out more about your rights when you use a carrier to move or transport items:
Some common issues with buying online include:
the seller not sending you the goods or delivering them late
receiving products that are of lesser value or different from their description
the seller giving you misleading information about a product or the terms of sale, or not including key information
exchange rates and delivery costs making the products more expensive than you expected.
Only use your credit or debit card to pay online if the business uses a secure payment system. You'll see a padlock icon in the window of your browser (but not in the webpage itself).
---
Your rights when buying online
Your rights — or your ability to claim those rights — depend on whether you are buying from:
a trader in New Zealand
an overseas trader
a private seller on an online auction site, eg Trade Me or eBay.
Check the terms and conditions before you buy online, including returns, delivery and warranties.
Buying online from a New Zealand business
When you buy online from a business based in New Zealand and you are not happy with a product or service, you can ask for it to be repaired, replaced or for a refund under the Consumer Guarantees Act (CGA).
Remember that a .nz domain website doesn't guarantee it's a New Zealand business. Check first if a company is registered to sell products in New Zealand.

Registered companies(external link) - New Zealand Companies Register
Under the Fair Trading Act (FTA), online sellers on sites like Trade Me must clearly disclose if they are selling in trade. This means their business is selling goods, so the CGA applies if you buy from them.
You can claim compensation or cancel the purchase under the FTA if any auction website operators or online traders mislead you or make false claims about their products or services.
Some online traders don't hold stock. Instead, they source it once you place an order. They need to make this clear before you buy, and they must have a reasonable basis to believe they can fulfil the order. If not, they may be in breach of the FTA.
Buying and selling online(external link) — Commerce Commission
If the online trader arranges delivery, they're responsible for making sure the products arrive on time and undamaged.
Buying from daily-deal or group-buying websites
You have the same rights when you buy a business's products or services from a daily-deal site as when you buy from any other online trader.
Common problems include:
not receiving what you ordered
the business can't or won't take your booking
the business blames the daily-deal site and the daily-deal site blames the business.
If you have a problem, you can ask either the discount site or the business to put it right — it's up to you to choose which one. If the discount site tells you to sort it out with the business — or the business tells you to contact the discount site — they might be breaching the FTA by misleading you about your rights.
Often discount and daily-deal websites will sell you a gift voucher to redeem for hotels, restaurants, leisure activities, or beauty treatments. Rules on using these vouchers vary according to the discount website and the business selling the deal, so read their terms and conditions carefully before you buy.
Often vouchers have an expiry date. If you can't use the voucher before this date, eg no appointments available when you ring to book, ask for the service to be provided later. If a business takes a payment without intending to provide a service, this is a breach of the FTA.
Buying online from an overseas business
The Fair Trading Act is likely to apply, and the Consumer Guarantees Act might apply when you buy online from an overseas trader.
However, it's harder to resolve problems and claim your consumer rights. Check the trader's website for terms and conditions including return, exchange or refund policies, complaints process, and any consumer laws that apply.
If you pay by credit card, you can ask your bank for a chargeback if your products don't arrive. This reverses a transaction, meaning you get your money back.
Other things to be aware of:
Calculate the final cost carefully, including delivery fees and currency exchange.
15% GST may be collected at the point of purchase with the online retailer or when you purchase the services of a redeliverer.
Exchanges, repairs and refunds take longer and may be more difficult to negotiate.
Import duties and restrictions may apply- see the NZ Customs website for details.
Online shopping(external link) — NZ Customs Service
If you buy an item valued at or under NZ$1,000 online from overseas, expect to pay 15% GST on the value of that item.
New GST collection rules explained
From 1 December 2019, overseas businesses that meet New Zealand's GST registration criteria will start collecting GST on all products valued at or under $1,000 sold to New Zealand consumers.
This doesn't necessarily mean that all online purchase goods by consumers will become more expensive. In some cases it will make purchases cheaper as consumers no longer have to pay tariff duty and cost recovery charges on these items valued under $1,000.
Example
Purchase
Total cost before 1 December 2019
Total cost after change at 1 December 2019
$50
t-shirt
Total cost of consignment: $50
No current charges at the border.
Total cost of consignment: $57.50
$50 t-shirt + $7.50 GST collected by the offshore supplier.
$300 jacket
Total cost of consignment: $432.17
$300 jacket + $30 tariff (10% × $300) + $49.50 GST (15% × $330) + $52.67 border processing fee.
Total cost of consignment: $345
$300 jacket + $45 GST collected by the offshore supplier.
$600 phone
Total cost of consignment: $742.67
$600 phone + $90 GST (15% × $600) + $52.67 border processing fee.
Total cost of consignment: $690
$600 phone + $90 GST collected by the offshore supplier.
For more information on the changes to GST, see Inland Revenue's information for consumers.
Buying goods from overseas(external link) - Inland Revenue
Buying from a private seller
If you buy from a private seller, eg on Trade Me, the Consumer Guarantees Act and Fair Trading Act don't apply. You have the same rights as if it was an in-person private sale.
Privacy issues
When you browse online (even if you don't buy anything), retailers can collect personal information without you knowing by using cookies. The website's privacy policy should tell you what information might be stored and why.
---
Shopping online comes with cyber security risks too
Shopping online safely means trusting that the seller is who they say they are, and have measures to keep your personal and credit card details secure.
Make sure that any website that asks for your information has a padlock symbol next to the URL in your browser. This means the connection is encrypted so no-one else can copy the information you send.
For more tips on shopping online safely(external link) - CERT NZ
Some online shopping sites are scams and don't intend to send any goods. Some signs a website is suspicious is if there is bad spelling and grammar or if the URL doesn't seem to match what they're selling. For example, if bobsportinggoods.co.nz was selling high heel shoes.
If you think you've been scammed by a fake website and can't contact the business, report it to CERT NZ.
Report an issue(external link) - CERT NZ
---
If things go wrong
If you think:
you have been misled
the products were not as described
did not arrive
are faulty, unsafe, or poor quality
the seller did not have the right to sell those products.
Try to sort it out directly with the seller: If you can't contact them, some websites, eg Trade Me, AliExpress have a disputes resolution process. Find the information on their site.
File a dispute report(external link) — Trade Me
Disputes(external link) — AliExpress
Apply for a chargeback— if you can't sort out the problem with the seller, your bank or credit card company may be able to reverse the charge on your credit or debit card. This is called a chargeback. You can't get a chargeback if you changed your mind.
There is a time limit on getting a chargeback. Ask your bank or credit card company what it is.
If you bought a voucher from a daily-deal site: Ask the site or the business providing the product or service to sort it out. Both are equally responsible for providing a remedy.
Prepare to complain: You are more likely to get a good result if you know your rights, gather evidence and and think about what you prepared.
Take your complaint further
If you can't resolve your issue directly with the business, the Disputes Tribunal or District Court may be your next step. Bear in mind, if the seller is overseas it may be harder to enforce any formal decision.
About the tribunal(external link) — Disputes Tribunal
You can report the business to the Commerce Commission if:
you think you have been misled
the business has said something that is not true.
Commerce Commission can't investigate every complaint, or solve your individual problem. But they can warn or prosecute the business. Your information helps them assess which consumer issues are causing the greatest harm.
Make a complaint(external link) — Commerce Commission
More help
Get support at any point from:
Citizens Advice Bureau (CAB) — a free, independent service, run by volunteers. CAB can advise you on your consumer rights and obligations, in person, by phone, or online.
Community Law Centre — free one-on-one legal advice to people with limited finances. The organisation has 24 community law centres throughout the country. You can find legal information and other resources on its website.
Find a CAB(external link) — Citizens Advice Bureau
Our law centres(external link) — Community Law Centres
---
Examples
Example — Daily deals
A travel agent offers a cheap holiday package to Hawaii on a daily-deal site. He knows the offer is only available to the first 10 customers but doesn't make this clear in the terms and conditions. When the daily deal ends, more than 100 customers have bought it. The travel agent must honour those deals or he will be in breach of the Fair Trading Act for misleading the public.
Example — Not delivered, ask for chargeback
Jill is delighted to find a website that sells cheap trumpets from China, with delivery within two weeks. She places an order, and pays with her credit card. After four weeks, there is no delivery. She tries to contact the seller but gets no reply. So she asks her bank for a chargeback as the trumpet never arrived and the seller has not contacted her.
Example — Fake tickets
Chen gets a text message about tickets to a rock concert available from a private seller via a Facebook page. He messages the seller and buys two tickets. When he tries to go to the concert he finds out the tickets are fake. The Facebook page is no longer up when he tries to get in touch, and the text number doesn't work. Chen realises he has been scammed so he gets in touch with Scamwatch to warn others.