Your rights and what to do if you bought a vehicle from a car dealer and there's a problem, such as faults, misleading statements and money owing.
Your rights if something goes wrong
If there's a problem with your car after purchase and it's not your fault, you have more options if you bought from a car dealer. This is because buying from a dealer gives you many more consumer rights than if you buy privately.
Dealers must:
comply with the Consumer Guarantees Act (CGA), which gives you guarantees for new and used vehicles
comply with the Fair Trading Act (FTA) and not mislead you — if they sell online, they must tell you they are a car dealer
be registered and comply with the Motor Vehicle Sales Act (MVSA)
display an accurate Consumer Information Notice (CIN) on used vehicles.
This applies whether you pay cash, get the car as a gift or buy on lease or on finance. You have these rights no matter if you buy from a car dealer online, from a car yard or at an auction. (Note: a car market operator – sometimes called "a park and sell" operator) is not required to be a registered dealer.
---
Read more about Buying a car from a dealer
---
Consumer guarantees when you buy from a dealer
The CGA guarantees mean the vehicle should be:
of acceptable quality – reasonable in look and finish, durable and safe
fit for purpose – either generally or to meet a specific purpose you told the dealer before you bought the vehicle
as described – match the description in advertising or anything the dealer said at the time.
If one of your guarantees hasn't been met, you have a right to go back to the dealer for a repair, and if circumstances permit, a replacement or refund.
You are not covered by the CGA if your vehicle is:
bought from a private seller
bought for business use and the dealer has contracted out of the CGA
bought for re-sale or resupply in trade.
---
Read more about the Consumer Guarantees Act (CGA)
Find out if you can get a repair, replacement, or refund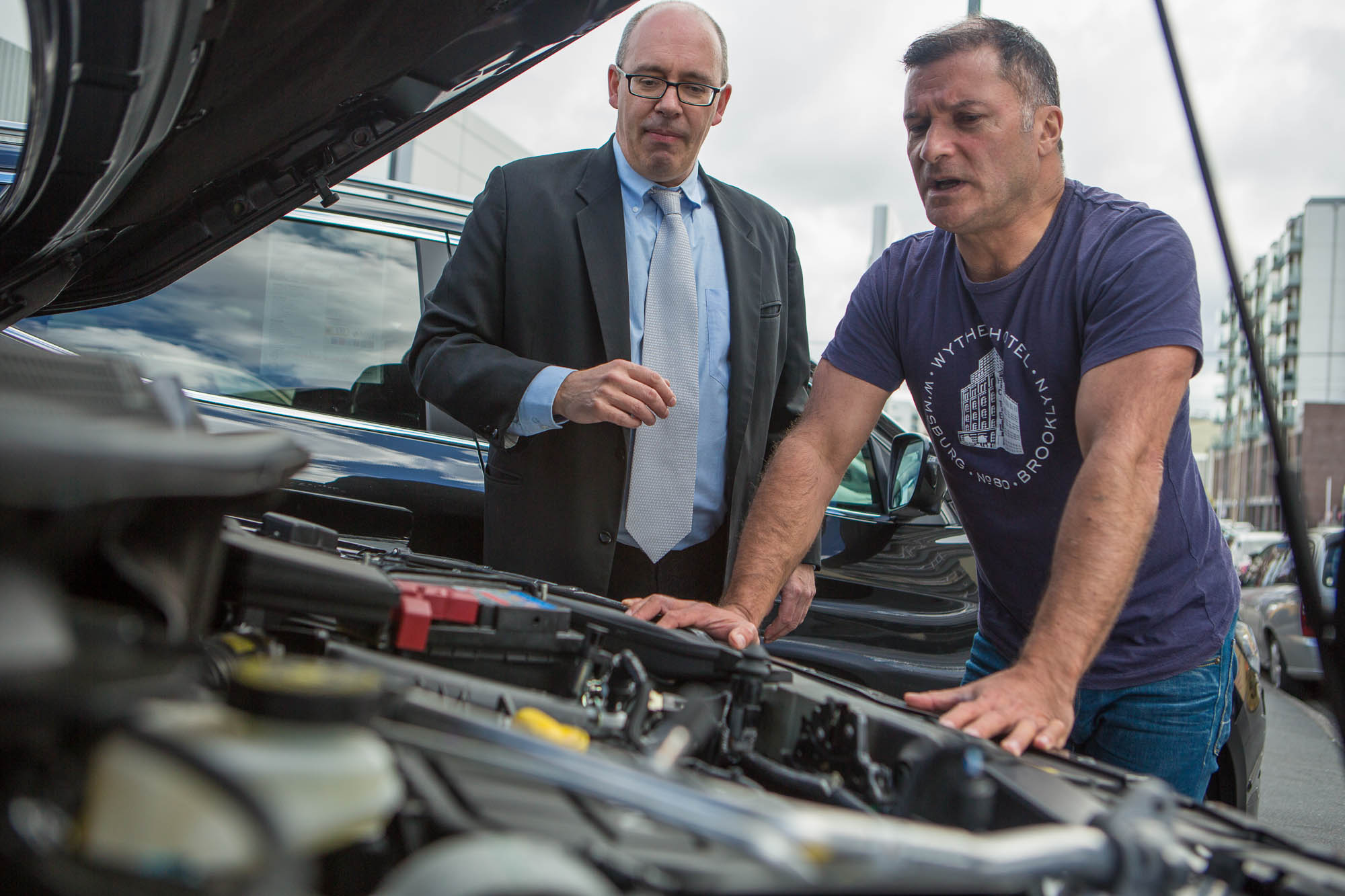 Your right to a remedy for common problems
If you experience a common problem with a car you bought from a dealer, know your rights.
Common problems include:
What to do if you have a problem
Contact the dealer and warranty insurer before you do anything else.
To avoid your right to a remedy being affected, do not perform any repairs without first contacting the dealer.
---
What to expect when you approach the dealer
When you go back the dealer:
Bring any proof of purchase and evidence of the problem, eg a copy of the original advert, any agreements or documents you signed, mechanical reports and photographs of the fault or water damage.
Know what outcome you want.
Take a support person to witness the conversation.
Be honest and state the facts of the situation.
Try to remain calm and reasonable.
Be prepared to honestly answer questions the dealer may ask you, including:
what the problem is and when it appeared
if anyone else, eg a mechanic, has looked at the car before you contacted them
if so, whether this person did anything to the car
how you have looked after the car, eg regular servicing, kilometres driven, etc.
if you purchased an extended warranty or breakdown insurance.
When you approach the dealer, they should get the vehicle inspected and decide whether the problem is minor or serious.
If the problem is minor
The dealer must get any repairs done within a reasonable time. Be sure to tell them when you need the car back by. Ask for a 'courtesy car' while they repair the vehicle, although a dealer is not legally responsible for providing one.
If you agree to repairs and they don't fix the problem properly, or the vehicle develops further faults, your rights continue. You can choose your remedy options again until your problem is sorted. But if you misuse a vehicle, the CGA doesn't apply.
If the dealer refuses, fails to do the repairs or doesn't do them in a reasonable time, you can choose to:
have the vehicle repaired elsewhere and claim the cost back from the dealer
reject the vehicle and claim a refund or a replacement of the same type and similar value if it is available in stock.
If the problem is serious
A problem is considered serious if:
it can't be repaired or fixed
the cost to repair the vehicle is disproportionate to the purchase price, eg if the car was bought for $5,000 and the cost to repair the fault is $4,000.
If the problem is serious, you can:
reject the vehicle and claim a refund or a replacement of the same type and similar value if it is available in stock
keep the vehicle and claim compensation for the drop in value.
If a faulty vehicle has caused damage to your property, you can also claim compensation.
If a dealer doesn't agree that the fault is serious, get an independent mechanical report in writing and a quote for the repairs. If the report supports your claim that the fault is serious, go back to the dealer to reject the vehicle and choose a refund, replacement or repairs, plus compensation for the cost of your report.
---
If you bought the car on finance
Contact the dealer about the problem as soon as possible.
Don't stop your payments to the finance company. The car may be repossessed if you do. You should contact your finance company to tell them about the problem and discuss your options.
If your dealer arranged your finance, the finance company is also responsible for giving you a remedy for the problem under the CGA. This is particularly important if the dealer is not being helpful or has gone out of business.
---
Read more about Getting a car loan
---
Next steps if a dealer doesn't agree
If you cannot solve your issue directly with the seller, you can contact:
Motor Trade Association (MTA) — If your dealer is a MTA member, they may be able to mediate between you and the dealer and help you reach an agreement.
Motor Vehicle Disputes Tribunal (MVDT) — For issues with registered motor vehicle traders, or dealers who should be registered. Most claims are resolved within three months.
Report the dealer — to Motor Vehicle Traders Register or Commerce Commission.
Find an MTA member(external link) — MTA
What they can do
Dealers must act on Motor Vehicle Disputes Tribunal decisions. Outcomes can include:
your sales contract is cancelled or changed in a way that compensates you for your loss
your money is refunded or your trade-in returned
you are compensated for any other direct losses from the vehicle's problems or for being misled
repairs for the vehicle or new parts
the dealer taking over your obligations under any credit agreement.
Check here for traders with claims against them and Tribunal decisions(external link) — MVDT
Make a claim(external link) — MVDT
Report the dealer
Motor Vehicle Traders Register (MVTR)
Run by Trading Standards, this holds information about registered traders and their business.
Complain about motor vehicle traders who may be:
unregistered and trading illegally
tampering with a vehicle's odometer
banned motor vehicle traders still operating illegally.
The MVTR is a register, not a dispute resolution organisation. Complaining to MVTR may help protect other consumers. It cannot help you get your money back, but Trading Standards may ban a seller from the register.
Complaints(external link) — MVTR
Commerce Commission
Report the trader if:
you think you have been misled about the vehicle, eg price, quality, kilometres travelled, country of origin
the vehicle's Consumer Information Notice (CIN) had incorrect information or wasn't there.
Commerce Commission doesn't act on behalf of individuals and can't investigate every complaint. But their investigations do help make sure businesses are complying with the law. Your information helps them assess which consumer issues are causing greatest harm.
Make a complaint(external link) — Commerce Commission
---
What acceptable quality for cars means
Find out more about what acceptable quality means when you're buying from a car dealer.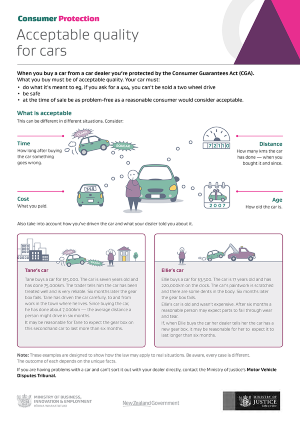 Download guide: What acceptable quality means for car buyers [PDF, 336 KB]