Use these top tips and resources when you view, test drive and inspect a car before you buy it to avoid any problems later.
---
Viewing a car
If possible, arrange to view a car on a fine day — it's easier to spot problems. Ask the seller not to turn on or run the vehicle at least a few hours beforehand. You want to see how the car performs before the engine is warmed up. To check, place your hand on the car's bonnet — it should feel cool. If you don't know much about cars, bring someone who does.
If it's a privately owned car, ask the seller if you can view the car at their home or workplace. This way you can get a better sense of who the seller is and how trustworthy they are. If someone says they are a private seller but asks you "which car" you want to view, they might actually be a car dealer pretending to be a private seller.
If you have a good first impression of the car and seller, follow these steps and use the resources on this page before you seal the deal:
Don't feel pressured to buy on the spot. Take as much time as you need to do checks and inspections and to feel confident about your purchase.
Read more about common problems and how to avoid them when you buy from a private selleror a car dealer.
---
Questions to ask the seller
Ask these questions when you view a vehicle:
Is there anything wrong with it?
Is there any money still owing on it?
Are there service receipts for any work that's been done?
Is there a second set of keys? Getting a second key cut can be very expensive.
If the vehicle has a cambelt, when was it last changed? Generally, they need to be changed every 100,000km. Depending on the model, this can be very expensive.
When were the tyres changed? Generally, they need to be replaced every seven years, when the tread depth is less than 3 millimetres deep or if they are showing signs of aging, eg cracks on the sides.

Has the vehicle ever suffered water damage? This is becoming more common with

severe weather events.

Is the vehicle insured? It's important to know if you'll be liable for damages if you have an accident while test driving.
Does the car have to be serviced by the original dealer? Many newer cars must be serviced by a dealer to maintain the warranty.
If it's an electric vehicle:
What's the state of the battery's health and capacity? These affect how far an EV can travel on a full battery.
Can the car fast charge? Not all EVs can. Fast charging is useful for longer journeys or if you can't charge at home.
Is the charging cable designed to work in New Zealand? Cables must plug into sockets and chargers, and meet safety standards.
Specific questions to ask a private seller:
How long have you owned the car?
Why are you selling the car?
Specific questions to ask a car dealer:
What on-road costs are covered in the sale price?
What are your policies if there is a fault after purchase?
What does the extended warranty cover that is over and above the guarantees provided by the Consumer Guarantees Act?
---
Basic checks when you view a car
Use this checklist to run through simple checks to look for potential problems. These checks aren't a substitute for a pre-purchase vehicle inspection. To safeguard yourself from buying a lemon, you should get a professional to look over the car before you buy it.
Take this guide with you when you view a car: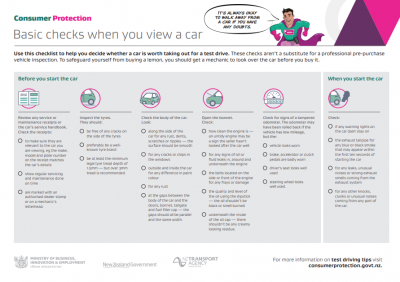 Download guide: Basic checks when you view a car [PDF, 1.1 MB]

Before you start the car
Review any service or maintenance receipts or the car's service handbook. Check the receipts:
are relevant to the vehicle you are viewing
show regular servicing and maintenance done on time
are marked with authorised dealer stamps.

Tyres
Inspect the tyres. They should:
be free of cracks
preferably be a well-known tyre brand
be at least the minimum legal tyre tread depth of 1.5mm — but over 3mm tread is recommended.

Car body
Check the body of the car. Look: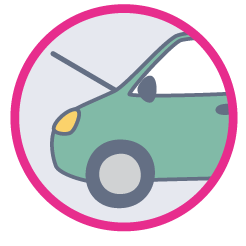 Bonnet check
Open the bonnet. Check:
how clean the engine is — an untidy engine may be a sign the seller hasn't looked after the car well
for any signs of oil or fluid leaks in, around and underneath the engine
the belts located on the side or front of the engine for any frays or damage
the quality and level of the oil using the dipstick — the oil shouldn't be black or smell burned
under the oil cap — there shouldn't be any creamy looking residue.

Tampered odometer
Check for signs of a tampered odometer. The odometer may have been rolled back if the vehicle has low mileage, but the:
vehicle looks worn
brake, accelerator or clutch pedals are badly worn
the driver's seat looks well used.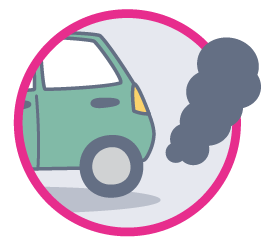 When you start the car
If the car is an internal combustion engine (ICE) car, check:
if any warning lights on the car dash stay on.
the exhaust tailpipe for any blue or black smoke that may appear within the first ten seconds of starting the car.
for any leaks, unusual noises or strong exhaust smells coming from the exhaust system.
for any other knocks, clunks or unusual noises coming from any part of the car.
If the car is an electric vehicle (EV), check:
Check the battery size. This is in kilowatt hours (kWh) and indicates how much electricity the battery can store when new, and therefore how far it can drive on a charge.
Any warranty covering the EV battery.
What charger inlets the vehicle has. (Be aware not all vehicles can use fast charging stations.)
What charging equipment is supplied, such as portable charging cables and/or supply leads. These must comply with New Zealand electrical safety standards.
Check the safety and fuel economy ratings of different cars at www.rightcar.govt.nz. You can compare the running costs with petrol or diesel cars.
See if the EV has the latest software updates installed.
Tips for buying an EV(external link) .
Visit the Waka Kotahi NZ Transport Agency website for more information on what to check for when you buy a used car.
Tips for buying a used car(external link) — Waka Kotahi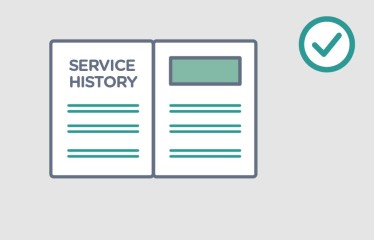 TIP 1:
Check receipts or records for a history of regular servicing.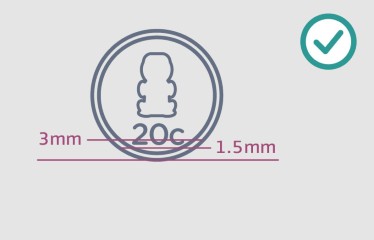 TIP 2:
Tyres should have at least the legal minimum tread depth of 1.5mm. Over 3mm is recommended. A coin can help you measure.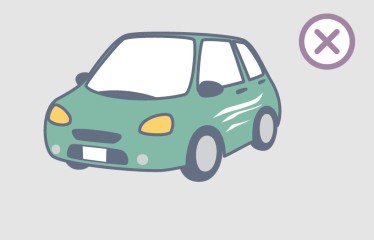 TIP 3:
Look along the side of the car to check the body for any dents or ripples. The surface should be smooth.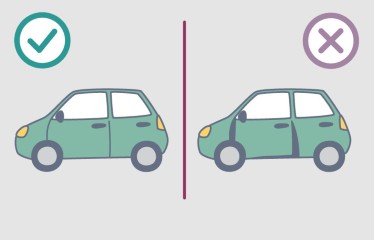 TIP 4:
Panel gaps between the body of the car and the doors, bonnet, tailgate and fuel filler cap should be parallel and the same width.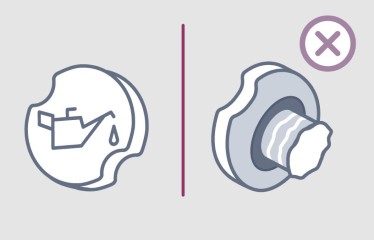 TIP 5:
Check underneath the inside of the engine oil cap. There should not be any buildup of creamy looking residue.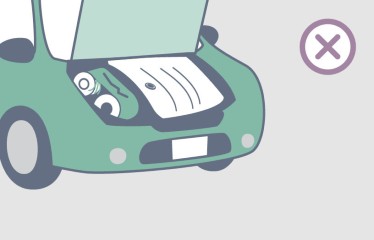 TIP 6:
Check the condition of the belts that are visible on the side or front of the engine. They should not be frayed or cracked.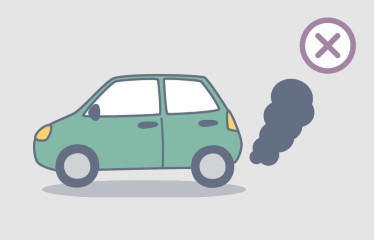 TIP 7:
Check for any blue or black smoke that may appear from the tailpipe right after you start the car.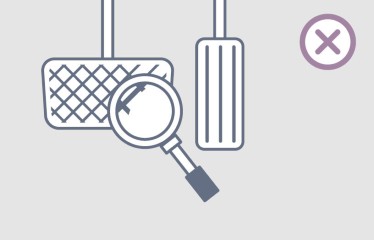 TIP 8:
If the car's brake or accelerator pedals are badly worn but its mileage is low, the car's odometer could have been tampered with.
---
Understand the limitations of a Warrant of Fitness
Just because a car has a valid warrant of fitness (WoF), doesn't mean it is in good condition. A WoF is a general safety check only — it doesn't cover important mechanical checks, eg engine conditions. It also doesn't indicate the level of crash protection the vehicle has.
Visit the Waka Kotahi NZ Transport Agency website for more information what a warrant of fitness covers.
Warrant of fitness(external link) — Waka Kotahi
A valid warrant of fitness does not mean the car is in good mechanical condition. Don't rely on it as a pre-purchase inspection.
---
Take a test drive
Plan your test drive route beforehand. Make sure you test the car on the types of roads you'll drive on most often.
Take your time and put safety first. Pay attention to how the car looks, feels, sounds and smells. Look for warning lights and signs of damage. Feel for any rattles or shakes. Listen for any clunks or odd noises. Check for any smoke, burning or unusual smells.
Test driving tips
Use this guide for tips on what to do and look for when you test drive a car.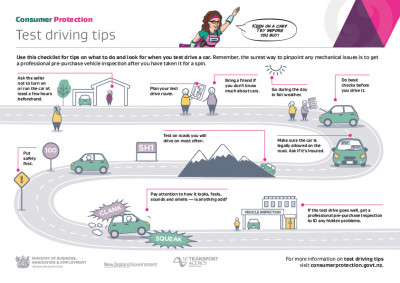 Test drive checklist
Here are a number of checks you can do when you test drive a car.
---
Check the vehicle history
Car dealers must make sure the vehicle is not registered as stolen. The Consumer Information Notice (CIN) in the car window must also state if there is still money owing on the car.
If you buy from a private seller, you can find out if:
the car has been registered as a stolen on New Zealand Police's Stolen Vehicles database
there's still money owing on the car by using the Personal Property Security Register's mobile friendly search.
Stolen vehicles(external link) — New Zealand Police
PPSR mobile-friendly search(external link) – Personal Property Securities Register
No matter who you buy from, you may want to consider double-checking the information the seller has given to you. There are a number of vehicle history report providers online. For most of these services, you enter the plate number or vehicle identification number (VIN) to get a comprehensive report on:
the ownership history
previous damage
money owing
any inconsistent odometer readings.
Some of these services are free or charge a small fee.
---
Getting a vehicle inspection
If your basic checks, test drive and history checks go well, the next step is to arrange for the vehicle to be inspected by a professional mechanic.
If the car is electric or an uncommon make/model, eg European, arrange to have it inspected by a mechanic experienced with that type of vehicle.
The best way to avoid a problem is to get the car inspected by a mechanic or pre-purchase vehicle inspection service — particularly if you are buying from a private seller.
Some car dealers will sort this for you with their preferred mechanic — though it may be beneficial to get this done yourself to get an independent report.
An inspection is even more important when you buy from a private seller. You have fewer consumer rights if there's a fault or problem with the car after purchase.
If everything checks out and you're keen to buy the car, make sure you consider any special offers and read all sales paperwork carefully.