Steps to follow before you raise an issue with a business about a product or service and tips when making a complaint.
Steps to resolve a problem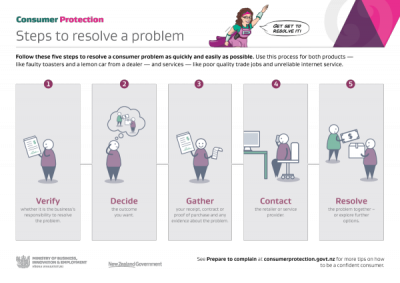 1. Verify you have an issue
Make sure you have a valid reason to complain. Consumer law doesn't apply if you caused the damage or lost an item.
If it is a valid complaint, it helps if you:
can prove purchase details
have been using the product or service as intended
2. Decide the outcome you want
Think about what it would take to make it right. Do you want:
a refund
repairs or improvements
a replacement.
Be reasonable in what you ask for. Make sure what you're asking for is in proportion to the size of the issue. If you're offered repairs but don't want that, explain why it's not a satisfactory outcome for you.
3. Gather evidence and write a description of the issue
You should write down in detail what the problem is with the item or service. Include details like:
a description of the item or service
date of purchase
date the problem occurred
what you've done so far
details of any official conversations you've had about it
any reference numbers
what you would like done about the issue.
Check what your legal rights are. Make a note of which law(s) apply to your problem. You might want to name that law when making the complaint.
Keeping records
Keep any documents that relate to your complaint and take them with you or include copies when you make your official complaint. Keep things like:
sales dockets, receipts and invoices
hire purchase agreements or credit contracts
layby agreements
guarantees
bank statements if the dispute is over a payment or account.
4. Contact the retailer or service provider
Once you've got all your evidence together and know what outcome you want, contact the seller to discuss the issue.
Act fast
Tell the service provider or retailer about an issue as soon as you find it. If you wait too long you might lose the right to a remedy.
5. Before you complain
Check what the company's complaints process is – they might have details on their website, or you could call them to check.
Before you make the complaint, get prepared. It can be good to write things down even if you're complaining over the phone or in person, so you know what you want to say.
Get support from the Citizens Advice Bureau or Community Law Centres.
A CAB near you(external link) – Citizens Advice Bureau
Our law centres(external link) – Community Law Centres
Always ask for advice
Check with the retailer that the item you're purchasing will do the job you need it for. If you then find that it does not work as described, you should seek a remedy based on it not being "fit for purpose".
6. Complaining by phone or in person
It's worth having an initial discussion before progressing to a formal complaint. Whether you're just discussing the problem or making a formal complaint, always prepare first. Be clear about what the issue is, when it happened and how you would like it resolved.
Tips on how to discuss a problem
Talk to the right person. The person you speak to needs to have the ability to resolve the issue, eg a store manager, business owner or supervisor.
Focus on talking about the problem with the product or service, rather than taking issue with a person.
Stay calm and reasonable. Explain the problem in detail and provide any evidence you may have.
Tell them what outcome you want.
Expect questions. A store or service provider may ask you for more details.
Ask to speak with someone else if you're not happy with the way the conversation is going. It's okay to walk away and come back later, or to follow up in writing.
Listen to their response. Ask for time to consider it if you need to.
If you're not comfortable talking to the store or service provider, take a friend or family member for support.
People who are deaf, hard of hearing, speech-impaired or deafblind can connect with businesses by using the New Zealand Relay Service. A relay assistant can help arrange communication with others over the phone. The service is free.
7. Writing a complaint
Your letter or email should be clear and concise — aim to keep it no longer than a page. It should:
include details of the purchase, eg a description of the item or service, purchase date and seller details
give a detailed description of the problem and when it occurred
be as factual as possible
explain what you want done to fix the problem
include when you want a reply by
include your contact details
include copies of your receipts, sales contract or other proof of purchase — don't send originals.
Example — Wrong phone plan
When Paul signed up for an internet package, the salesperson tried to upsell him on a package with a fixed phone line. Paul said he didn't want it. But when his first bill arrived, he discovered he was being charged for the package with the phone. He rang the company and calmly explained the situation, telling them he wanted the package he had requested. The customer service representative corrected his plan and updated his bill to the correct amount.
---
More help
Get support at any point from:
Citizens Advice Bureau (CAB) — a free, independent service, run by volunteers. CAB can advise you on your consumer rights and obligations, in person, by phone, or online.
Community Law Centre — offers free one-on-one legal advice to people with limited finances. The organisation has 24 community law centres throughout the country. You can find legal information and other resources on its website.
MoneyTalks — gives free budgeting advice to individuals, family and whānau. Financial mentors can help you understand your financial situation, organise your debt plan. They can also put you in touch with a local budgeting service and help you address issues you're having with lenders. Contact them on 0800 345 123. Or by live chat, email or text if you prefer.
Find a CAB (external link) — Citizens Advice Bureau

Our law centres(external link) — Community Law Centres
Contact information(external link) — MoneyTalks
You can raise an issue in writing, face-to-face or over the phone. Before you do, make sure you're prepared. If the problem is complicated or potentially worth a lot of money, consider getting legal advice.