Your rights when repairs are to fix wear and tear or because you broke it.
If a product or service is faulty, it's covered under the Consumer Guarantees Act (CGA). The retailer, manufacturer or service provider must get repairs done for you.
For all other repairs, eg fixing wear and tear, you pay the repair bill. Give the repairer a price limit, or ask them to tell you what work needs doing — and how much it will cost — before you agree.
---
Your rights
Getting repairs done
Be specific about what work you want done, so you don't have to pay for anything extra. If you are unsure, get an assessment and a written quote first.
You might have to pay to get the products inspected and a quote prepared, as long as this charge is clearly displayed.
Under the CGA guarantees for services, a tradesperson or professional must complete work:
with reasonable care and skill
within a reasonable time, if no timeframe agreed
at a reasonable price, if no price agreed.
You can find out what is reasonable by asking other tradespeople or professionals how much the work should cost, and how long it should take.
You can get a refund and compensation under the Fair Trading Act if they mislead you by claiming:
work must be done when it's not needed
they belong to a trade association, or have some industry approval, but this is untrue.
When you leave items with a repairer, you are only authorising them to make the necessary repairs and nothing else. For example, if you leave your car at your local garage, the mechanic can test drive it to make sure it runs OK. They can't use it for joyriding or to pick up their children. If you can prove they misused your car, you may be able to get compensation.
Repairs on faulty products or services
Contact the retailer or service provider before you get the problem fixed by someone else. Let them know what's wrong as soon as you discover a problem. Unless you misused or damaged the product, you will get free repairs under the CGA.
If faulty products or services are not covered by the CGA — eg you buy something for your business that's normally only used by businesses — you pay for the repairs. You may be able to claim the cost on your insurance.
Unexpected extra work
You must agree to extra work before a tradesperson or service provider carries it out. Find out how much the extra work will cost before you agree to it. Contact others in the same industry to find out if the price is fair. This will be need to be agreed as a variation to the original quote and put in writing.
If extra work is done without your agreement, the repairer can undo it as long as they don't damage your property.
---
If things go wrong
Avoid surprises by asking for an estimate or quote before a repairer commences work. Ask them to keep you updated and check with you before fixing anything you have not agreed to upfront. If the repairer charges you for work that was not quoted or agreed to by you, you may not have to pay for it.
If something goes wrong before the repair is completed, making the return of the good impossible eg. natural disaster, you may still be required to pay any costs to the business such as parts and labour.
If you think a repair job done under the CGA isn't good enough, you can ask the repairer to fix the problem or give your money back.
For consumer products or services covered by the CGA, go back to the retailer or service provider as soon as you discover a problem. Explain what the problem is and how you would like it to be resolved. Bring proof of purchase such as a receipt or bank statement, or the contract for services.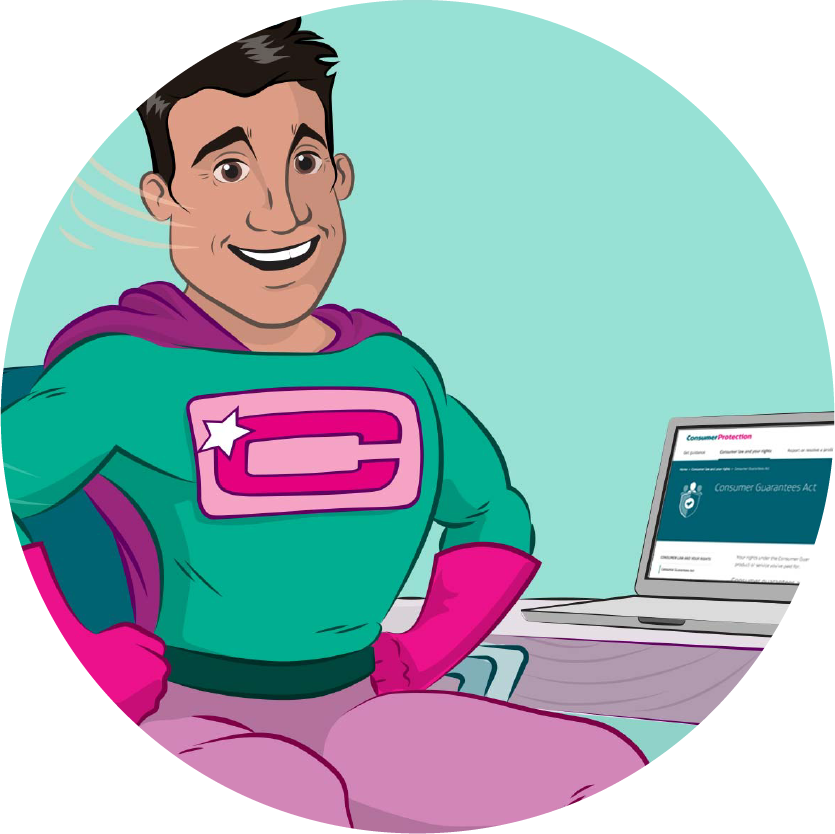 Test your know-how
What should you do if a product you have purchased is faulty?
Disputes over repair costs
If you get into a dispute over the cost of repairs you are paying for yourself, the repairer can keep your items until you pay for them. You might not want to pay the full amount because:
you didn't ask for some of the repairs
you don't think the repair was good enough.
You can try negotiating a lower price with the repairer. Or, you can agree to pay either part of the cost or the full amount just to get the item back. This is called paying 'without prejudice', which means that you don't accept the amount charged. You can then go to the Disputes Tribunal to make a complaint and try to claim some money back.
About the tribunal(external link) — Disputes Tribunal
If you get into a dispute and don't contact the repairer for two months, they can sell your items under what's called a 'repairer's lien'. This is allowed under the Contract and Commercial Law Act.
Before a repairer can sell anything belonging to you, they have to give you one week's notice. They can send you a letter if they know your address, or they can put an ad in a local newspaper showing:
how much money is owed
a description of the item
the time and place of the sale and the name of the auctioneer.
The repairer can use the proceeds of the sale to pay for the repairs and the cost of advertising and sales. Any extra money has to be given to the Registrar of the nearest District Court. This money is yours, and will be held at the Court until you pick it up.
Find nearest District Court(external link) — Ministry of Justice
---
Examples
Example — Extra repairs that weren't asked for
Eli asked his mechanic to replace the brake pads on his car. The mechanic also replaced the rotors without telling Eli first. Eli only has to pay for the work done on the brakes — he doesn't have to pay for the extra work on the rotors.
Example — Unhappy with work done
Abbey leaves several suits at her local drycleaners for cleaning and repairs. She isn't given a price beforehand. A week later, she gets a call to say her clothes are ready for collection. She's unhappy with the cost and the quality of the repairs, and she refuses to pay the bill. The drycleaner will not give her the clothes until full payment is made. She pays 'without prejudice' to get them back and tells the drycleaner she might dispute the bill in the Disputes Tribunal.