Tips for buying a used car, what to check for and how to protect yourself from common problems.
---
What to check before buying a used car
Buying a second hand car is another option consumers can consider when purchasing a car. Use these tips and resources when you view, test drive and inspect a car before you buy it.
Use this checklist with steps to follow when buying a used car.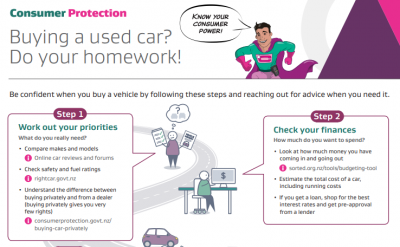 Download guide: Pre-purchase checklist before buying a used car [PDF, 394 KB]
Pre-purchase checklist
1. Work out your priorities
What do you really need?
Compare makes and models

Check online car reviews and forums

Check safety and environmental ratings
Understand the difference between buying a car privately and buying from a dealer (buying privately gives you very few rights)
2. Check your finances
How much do you want to spend?
Look at how much money you have coming in and going out
Estimate the total cost of a car including running costs
If you get a loan, shop for the best interest rates and get pre-approval from a lender
3. View and test cars
Does it look and feel right?
Check important documents

Consumer Information Notice (CIN)
service receipts
current warrant of fitness (WoF)
current licence (rego)

Do basic checks
Ask about previous water damage
For used EVs, get a battery state of health (SOH) test, and check the charging cable meets safety and compatibility standards
Take it for a test drive
4. Call in the experts
Does everything stack up?
Identify hidden problems
Get the car inspected

find pre-purchase vehicle inspection provider
5. Before you sign on the dotted line
Are you getting the best deal?
Be wary of any offers too good to be true
Calculate car's true cost if you borrow
Make sure any add-ons, eg extended warranties and accessories, are worth it
Read any contracts or agreements carefully
6. Let's go
How can you get on the road?
Let Waka Kotahi NZ Transport Agency know you bought a car
Safeguard yourself with insurance
Stay road worthy with regular servicing and current WoF and licence (rego)
Save sales documents and service receipts, CIN notices and all other related paperwork to avoid problems
---
Protect yourself from common problems
Here are some additional elements to check – and risks to be aware of when buying a used car:
---