Report a scam for access to specialist advice and to prevent other people being caught out by scams.
What to do if you think you have been scammed
1. Stop all contact with the scammer
Once you realise you are being scammed, do not continue the conversation. Hang up the phone. Don't reply to emails or letters scammers have sent you. If you have been scammed online, block the scammer from contacting you.
2. Do not make any more payments
Some scammers target people caught in recent scams, e.g by pretending to be an enforcement agency that can return all of your money for a fee. Don't give money to anyone on the promise they will get your lost money back
3. Contact the bank or service you sent money through
If you are the victim of a financial scam, credit card scam or identity theft, contact your bank immediately. The sooner your bank knows about it the greater the likelihood of getting the money back.
Reporting is worthwhile
Scams have a big impact on New Zealanders each year. They affect people's finances and can also threaten personal privacy, relationships and confidence.
We can all protect one another by reporting scams and talking about what we see.
---
What happens when I report a scam?
Reporting a scam gives you access to specialist advice and can help other people stay safe. You can report a scam whether or not you have been caught by it.
Reports build a dashboard of information which helps to track trends in scams. This tracking is used to create effective public awareness warnings. It helps enforcers and educators decide the best way to use their resources.
Use this guide to find out more about the steps involved when you report a scam.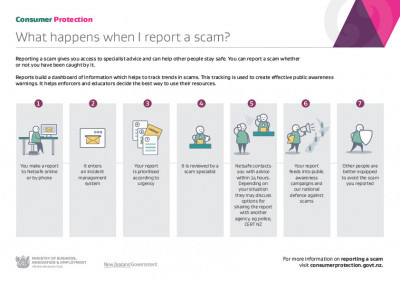 Download guide: What happens when I report a scam? [PDF, 300 KB]