Steps to follow before you raise an issue with a business about a product or service.
---
2. Decide the outcome you want
Think about what it would take to make it right. Do you want:
a refund
repairs or improvements
a replacement.
Be reasonable in what you ask for. Make sure what you're asking for is in proportion to the size of the issue. If you're offered repairs but don't want that, explain why it's not a satisfactory outcome for you.
Steps to resolve a problem
Follow these five steps to resolve a consumer problem quickly.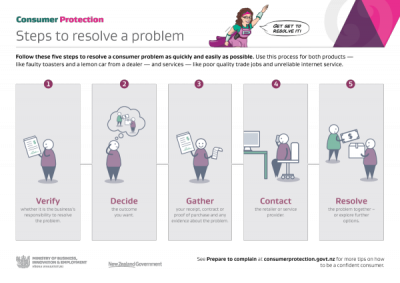 1. Verify you have an issue
Make sure you have a valid reason to complain. Consumer law doesn't apply if you caused the damage or lost an item.
If it is a valid complaint, it helps if you:
can prove purchase details
have been using the product or service as intended