Steps to follow before you raise an issue with a business about a product or service.
Steps to resolve a problem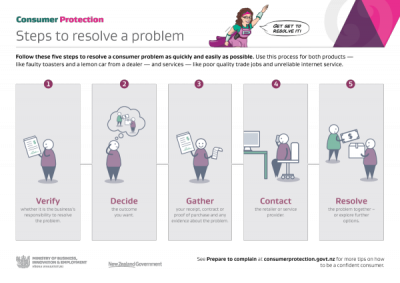 1. Verify you have an issue
Make sure you have a valid reason to complain. Consumer law doesn't apply if you caused the damage or lost an item.
If it is a valid complaint, it helps if you:
can prove purchase details
have been using the product or service as intended
2. Decide the outcome you want
Think about what it would take to make it right. Do you want:
a refund
repairs or improvements
a replacement.
Be reasonable in what you ask for. Make sure what you're asking for is in proportion to the size of the issue. If you're offered repairs but don't want that, explain why it's not a satisfactory outcome for you.
3. Gather evidence and write a description of the issue
You should write down in detail what the problem is with the item or service. Include details like:
a description of the item or service
date of purchase
date the problem occurred
what you've done so far
details of any official conversations you've had about it
any reference number
what you would like done about the issue.
Check what your legal rights are. Make a note of which law(s) apply to your problem. You might want to name that law when making the complaint.
Keeping records
Keep any documents that relate to your complaint, and take them with you or include copies when you make your official complaint. Keep things like:
sales dockets, receipts and invoices
hire purchase agreements or credit contracts
layby agreements
guarantees
bank statements if the dispute is over a payment or account.
4. Contact the retailer or service provider
Once you've got all your evidence together and know what outcome you want, contact the seller to discuss the issue.
---
More help
Get support at any point from:
Citizens Advice Bureau (CAB) — a free, independent service, run by volunteers. CAB can advise you on your consumer rights and obligations, in person, by phone, or online.
Community Law Centre — offers free one-on-one legal advice to people with limited finances. The organisation has 24 community law centres throughout the country. You can find legal information and other resources on its website.
MoneyTalks — gives free budgeting advice to individuals, family and whānau. Financial mentors can help you understand your financial situation, organise your debt and plan for the future. They can also put you in touch with a local budgeting service and help you address issues you're having with lenders. Contact them on 0800 345 123. Or by live chat, email or text, if you prefer.
Find a CAB (external link) — Citizens Advice Bureau

Our law centres(external link) — Community Law Centres
Contact information(external link) — MoneyTalks
You can raise an issue in writing, face-to-face or over the phone. Before you do, make sure you're prepared. If the problem is complicated or potentially worth a lot of money, consider getting legal advice.